The third edition of the Business Networking Week in Italy – BNWI, the annual networking program organized by E4Impact Foundation, has just ended. Goal of this week is to enable E4Impact African Entrepreneurs to establish solid and fruitful collaborations with Italian companies and to network among them at pan-African level.
This year the Foundation welcomed 17 entrepreneurs from 8 African countries – Cameroun, Ethiopia, Ghana, Ivory Coast, Kenya, Mozambique, Uganda, Zimbabwe – who came to Milan from September the 23rd to the 27th, to participate.
What did these 17 successful entrepreneurs have in common? First of all, they were all #E4ImpactEntrepreners, this means they have been selected from E4Impact Global MBAs in Africa. Secondly, they were all operating in the agrifood sector.
Now that it's come to an end, we can definitely say that it has been a week full of activities and that the entrepreneurs had the chance to become part of an international network, explore new business ideas and be inspired by Italian excellences. But let's give a closer look to these enriching days that have just passed.
The week started off on Monday the 23rd with the conference "Doing Business in Italy: market trends, challenges and opportunities for African entrepreneurs", during which some Italian companies had the chance to present their businesses and to give the participants an overview of the Italian agribusiness ecosystem. In particular the event was graced by Gian Luca Bagnara from Ca' Colonna, Vladimir Voykov from Milkline, Elena Appiani and Thomas Croci from Studio Tecnico Appiani.
The two following days brought the entrepreneurs to the core of the Italian agribusiness sector and enabled them to get in touch with important business realities dealing with agrifood technology: they were guests at Cibus TEC exhibition in Parma, a fair dedicated to innovative solutions in the Food and Beverage industry, where they could get to know the most advanced technologies in the agribusiness sector. They were offered a guided tour and a dedicated platform to network. There, they also took the chance to take part in B2B meetings, in order to develop important business relations with potential Italian customers, suppliers, or investors.
Thursday the 26th was a day fully dedicated to the Made in Italy and to the discovery of the Italian know-how, tasting some of the best products Italy can offer. The BNWI participants had the chance to visit two Italian excellences in the agrifood sector: Azienda Agricola Bertinelli and Monte delle Vigne.
Azienda Agricola Bertinelli, based in Noceto (PR) is one of the most important dairy company of the Country, as well as the main milk supplier of the Made in Italy flagship cheese Parmigiano Reggiano. During the company visit, the entrepreneurs had a closer look on how the cheese supply chain is managed and, moreover, had the chance to learn more about its production techniques, thanks to a dedicated guided tour led by the CEO, Nicola Bertinelli, and the PR Manager, Nicola De Ieso. After this, the entrepreneurs were delighted by a special lunch at the company Hosteria, where they could taste the best Parmigiano Reggiano of Italy.
The afternoon was dedicated to visit of Monte delle Vigne, located in Collecchio (PR), in the heart of Parma hills. It is a sustainable winery, whose philosophy is based on organic farming and respect for nature. There, the entrepreneurs could watch closely a great example of Italian wine production and storage.
On the very last day, our #E4ImpactEntrepreneurs took part in workgroups and focus groups sessions, each of which included a 30-minute talk with some ad hoc consultants: Marco Locati (Senior consultant at E4Impact), Francesca Ostan (Manager African Desk at PWC), Cesare Sacerdoti (CEO of CSE Crescendo srl), and Franco Veroni (International Business Professor at Università Cattolica del Sacro Cuore). They were given precious advice in order to make their business grow and expand at international level.
To finish off the experience, E4Impact Foundation set up a Final Award Ceremony for the 17 participants to award them with a certification for their valuable attendance. Some time was also dedicated to the last B2B meetings with Italian companies, building on the contacts made the days before. Some dances, a lunch together and the last networking moments closed a day full of emotions for everyone.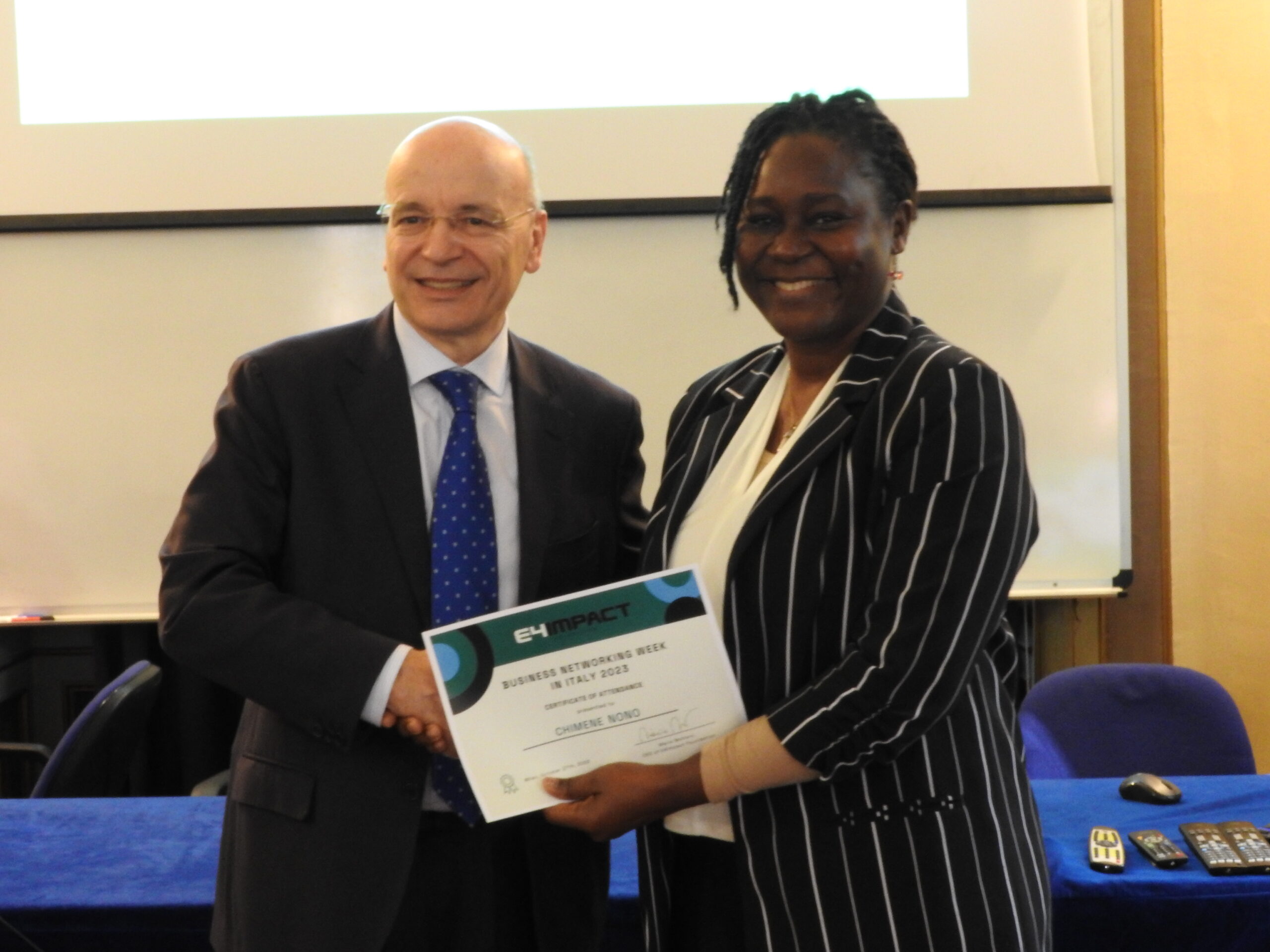 A warm thank you and goodbye to all the participants, who headed back home energized and ready to capitalize the network they have developed here in Italy. If the purpose of the Business Networking Week in Italy is to offer an enriching experience to the African entrepreneurs and to allow them to get in touch with Italian companies, in order to expand their businesses, we really hope we have met the expectations.
We hope it has been a week full of innovative ideas and collaboration and we are looking forward to the next edition, where we will welcome a new group of #E4ImpactEntrepreneurs. Meanwhile, we'll continue to accomplish our mission: train a new generation of impact entrepreneurs in Africa, who is capable of building strong, sustainable and innovative businesses, creating jobs and providing solutions to their country's challenges.