Small and Micro Enterprises (SMEs) are an integral part of the Kenyan economy and according to the Capital Markets Authority of Kenya, SMEs offer employment to an estimated 7.5 million people, which accounts for 80% of employment, and contribute over 92% of the new jobs created annually.
For the past 7 years, E4Impact Foundation has a proven track record of supporting over 260 Kenyan entrepreneurs to help them build sustainable and impactful businesses. There is still a huge need to support SMEs build impactful businesses and provide access the funding to help them scale. To meet this need, E4Impact Foundation through funding support from the Italian Agency for Development Co-operation, has launched the E4Impact Accelerator that works with Kenyan business to build scalable business models, provide Italian markets, mentorship & investor linkages as well as provision of satellite communication services.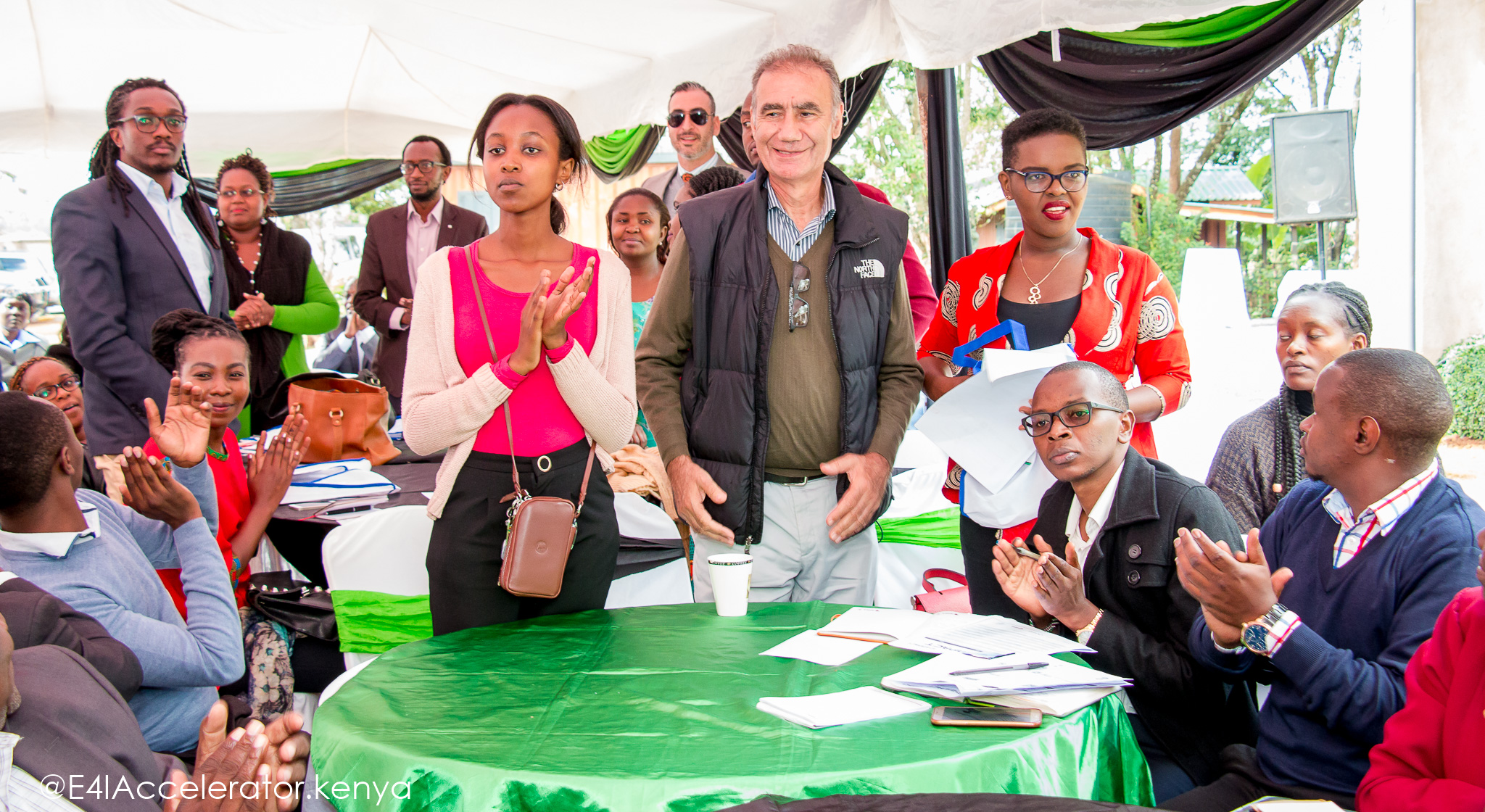 The launch and the unveiling of the 20 enterprises of the first cohort took place on the 13th of June 2018. The ceremony was officiated by H.E. Mauro Massoni – the Italian Ambassador to Kenya who spoke about the Italian investment to Kenyan enterprises and H.E. Dr. Kevit Desai – PS, Ministry of Education (Vocational and Technical Training) who shared on how the Government of Kenya is currently supporting SME's and the need to scale such initiatives to involve many more entrepreneurs within the country.
E4Impact Foundation CEO Prof. Mario Molteni, underlined the importance of entrepreneurship, which leads to new innovations, increased productivity and reduction in the rising unemployment rates, particularly among the youths in Sub-Saharan Africa where they are twice likely to be unemployed. Recently, educational institutions have taken up the challenge to take an active role in inculcating the entrepreneurial spirit amongst the youth as seen by the MBA program in Global business and sustainability run by Tangaza University College amongst others.
East Africa Manager, David Cheboryot spoke of the fact that incubators, accelerators and technological hubs have emerged in Africa over the past 5 years to support early-stage African entrepreneurs but few are actually distinct or support post-revenue enterprises in need of scale up funding and access to international markets. Some of the features that make the Accelerator distinct are:
Alignment with Kenya's current BIG FOUR agenda (manufacturing, universal healthcare, affordable housing, and food security)
Linkages to Italian Businesses and Mentors: Each entrepreneur will be coupled with an Italian mentor with the specific aim of identifying connections with Italian businesses that can help the Kenyan entrepreneur grow his/her business
Focus on social and environmental impact: Among the characteristics of the businesses chosen for the Accelerator, special consideration will be given to those who offer innovative solutions to social or environmental challenges
Access to finance: The Accelerator will possess its own pool of funds, which it will distribute in the form of seed grants to those incubated companies that qualify
Community Outreach: The Accelerator will actively recruit and will reserve two slots per year for business initiatives that come from the informal settlements
The accelerator is committed to supporting the growth of Kenyan enterprises through a customized training itinerary, provision of professional business services, market linkages, coaching & mentorship by successful Italian firms and provision of milestone-based seed grants. The accelerated businesses will also benefit from the SPARK Me "Space AcceleratoR as a Key for Market Enhancement" Project realised by Openet in collaboration with both the Italian Space Agency and the European Space Agency by developing new business opportunities in Kenya based on satellite communication technologies and other space assets (e.g. GNSS, Earth Observation products, precision farming, climate smart weather among others).