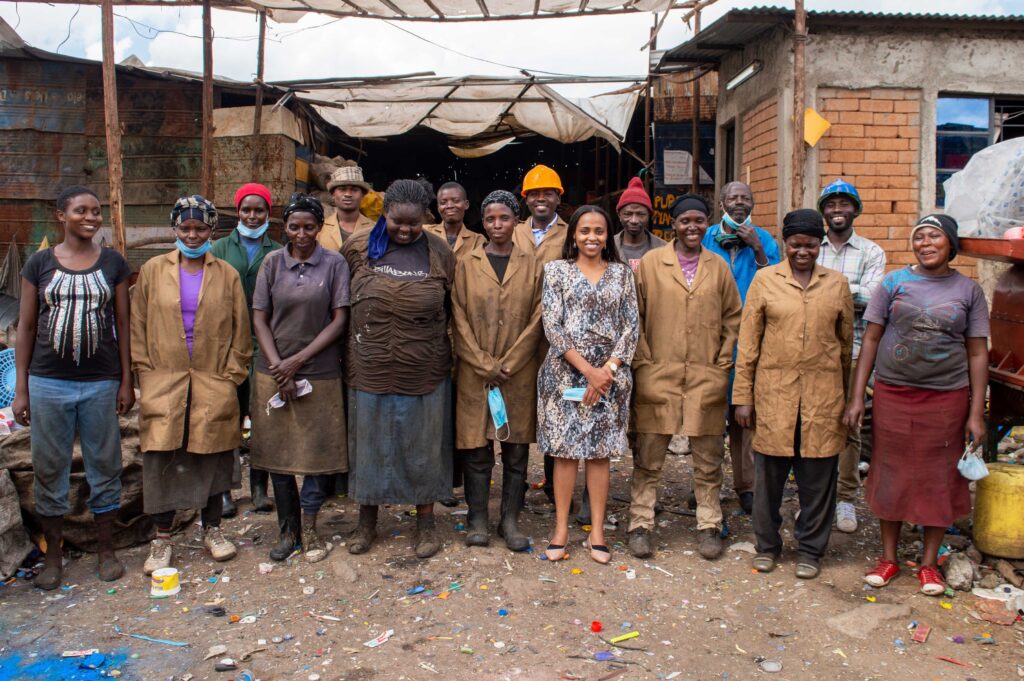 The disposal of garbage is still a big issue in Kenya. The open dump near Nairobi receives about 2,000 tons of garbage daily: mountains of trash are seriously harming the health of the population and polluting the city, the soil and the nearby river.
Richard Kainika, our Kenyan entrepreneur, was able to transform trash into cash by founding a recycling company based in Nairobi. He is the CEO of Pure planet recyclers ltd, which offers waste management services such as recycling of solid waste, collection and composting of garbage. Plastic waste material, then, is sold to customers in form of flex and pellets to be molded into new plastic products such as basins and jerricans. With his business, the entrepreneur cleans up the environment by collecting up to 1,500Kg of trash every day and creates jobs by hiring 26 employees.
The entrepreneur joined the E4Impact accelerator program in 2019 to scale up and structure his business and to improve his entrepreneurial expertise. In this regard, he affirms that: "The program offers a lot for entrepreneurs like us; the area of business strategy, marketing, and records keeping was very instrumental. I also needed to learn to implement business structures that were lacking a lot in our operations. Lastly, our business was informal, hence not incorporated, the program helped us to incorporate and we are now a government-recognized company."
But let's learn more about him and his business.
1. How was your Business Idea born?
Pure planet recyclers ltd idea was conceived in 2014 in a place called Kariobangi light industries. Kariobangi is very close to the biggest dumpsite in Kenya and probably in sub-Saharan Africa. Here, near to the informal settlements of Korogocho, Ngomongo and parts of Dandora, the phenomenon of illegal dumping is widespread.
Noting the extent of this environmental nuisance and driven by my passion for environment conservation and machine fabrication, I built a plastic crushing machine. Then, I hired two casual employees, rented a room on a roadside (where the manual sorting would happen) and started processing waste plastic for sale to plastic factories.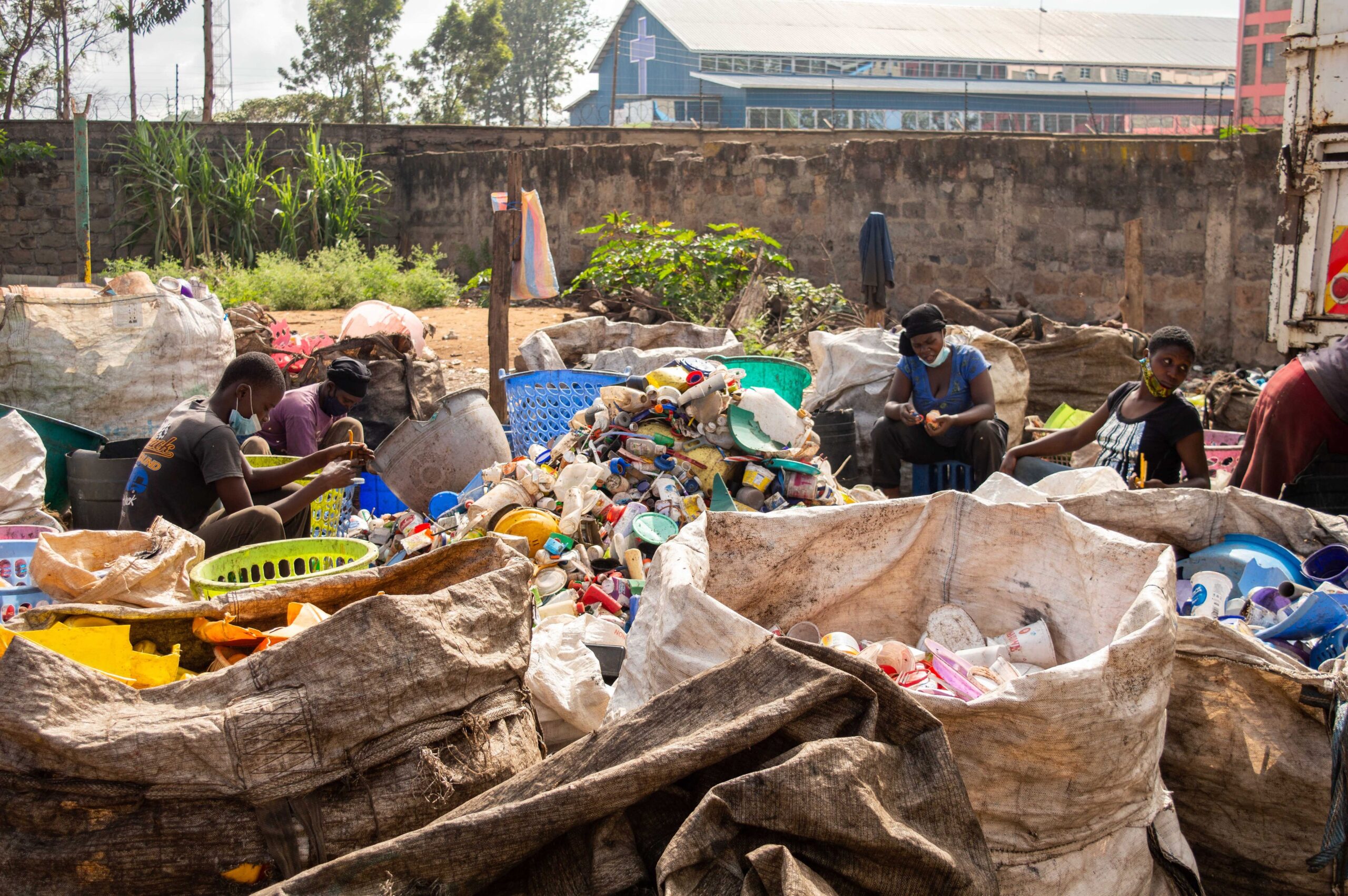 2. How can your business improve the life of the beneficiaries of your activities?
Today my entire dependence is on the activities of the company: through the income, I manage my family's financial needs and wants. I am a happy employee of PPR but I am also an employer: currently, we have 5 employees earning a salary, and 20 casual employees earning wages. PPR also supports more than 300 jobs indirectly. This is a huge impact on the surrounding community mainly coming from the informal settlements.
Other beneficiaries of my activity are our suppliers: to manage the daily plastics collection from the residential areas of Nairobi, PPR has created a network of over 60 waste aggregators (micro-enterprises that collect plastics on behalf of PPR at an agreed price). This relationship has enabled these proprietors to plan financially because of the guaranteed market for the waste they collect.
Customers benefit from my activity too: the demand for the secondary plastics raw materials produced by PPR is constant and guaranteed, this is because PPR offers its customers affordable and high-quality materials. To conclude, it goes without saying that the environment is the ultimate beneficiary of Pure planet recyclers. We started with a collection of 150kg of plastic a day and, to date, this amount has accumulated to over 2,000,000kgs (2000t). This waste is rescued from the environment and diverted back to the economy: this is an enormous gain to the environment as it directly helps in the restoration of the ecosystem. It is also worth noting that, this collection and waste diversion is contributing in a way to reducing the dependence on fossil fuels as well as reducing our country's dependence on imports.
3. What has been the main challenge you had to overcome in your entrepreneurial experience?
The main challenge has been structuring the business: we started off just informally, but now we have formal structures in place. This challenge was addressed when we joined the E4impact accelerator program in 2019: the program helped to create structures, address issues of incorporation and other statutory compliance requirements.
4. In your opinion, what are the main qualities an entrepreneur should have?
An entrepreneur is like a mother to their business: he should be resilient and optimistic.
5. Is there a person you are inspired by, i.e. an entrepreneur or a particular mentor?
I admire several entrepreneurs the world over, but Dr. Sancinelli of Montello Plastics SPA in Bergamo (Italy( is the one who inspires me more.
6. What would you suggest to a new-born entrepreneur?
They are to remain faithful to their business and focused on their needs. Many times, you would feel almost sure that things are not working but you must be resilient. It is okay to consider working with other resourceful persons when the right structures are in place.
7. Could you tell us a particular satisfactory moment you had in your entrepreneurial activity?
The most satisfying moment for me was when we received the recycling license from the government: we are certified to collect and transport countrywide.
8. Could you tell us how the Accelerator has helped you and your business?
To start with, Pure planet was a sole proprietorship company, meaning it was just a business name that was registered, through the accelerator program, we were incorporated into a limited liability company. We were also trained to keep books of record as well as apply proper business accounting, this has given us a very big boost for we have since been able to engage with investors with ease and have actually been able to raise funds. In 2021, we managed to get USD20,000, and we are currently finalizing another facility of USD47,000 financing the purchase of a new collection truck and some working capital. There was much that we learned about marketing strategies including use of the social media to expand our sales and marketing. Today Pure Planet Recyclers has an interactive website and is active in all social media platforms.
9. What are Pure planet Recyclers future plans?
We are planning to begin providing residential waste collection services in order to have easier access of the recyclable waste hence cut cost of business. The strategy is to align with the newly published Sustainable Waste management Act 2021, that requires all Kenyan to separate their waste and engage a certified waste service provider as their provider. The move will prompt PPR to operate as a mini MRF where residential waste is separated and diverted towards recycling or reuse instead of dumping it. Other development will include a BSF (black soldier fly) farm where organic waste will be converted to livestock/fish feeds, and composting for Eco fertilizer. The company has leased a second facility to cater for the new developments.
Learn more about Pure Planet Recyclers:
Website: www.pureplanetrecyclers.com
Facebook page: Pure Planet Recyclers ltd
Twitter Account: @pureplanetrecy
Instagram Account: Pure Planet Recyclers LTD