The development of a local production of quality rice is one of the biggest socio-economic challenges in Cameroon. Actually, about 680-805 thousand tons of rice are imported into the Country from Asia each year, worth 300 million euros, without any product traceability and reliable quality control.
Within this context, our entrepreneur from Cameroon, Ahmadou Oumarou, decided to launch his rice brand Logone Riz, part of TPA Cooperative, which he promotes. His vision is to become the agro-industrial leader in the local rice production and marketing by 2025.
To reach this goal, Ahmadou enrolled in the second edition of the Global MBA in Impact Entrepreneurship in Douala (Cameroon), offered by E4Impact in partnership with ALTIS – Università Cattolica and JFN Center.
"I've chosen this program to receive support in implementing my business idea: providing a higher quality alternative to imported rice, ensuring benefit to the entire community. I am convinced that this MBA is a great innovation for African entrepreneurs. The knowledge transfer from the E4Impact Foundation and the Catholic University of Milan to the entrepreneurs is an effective means for the structural transformation of our economies." he stated.
But let's take a look into the interview we made to Ahmadou.
1. How was your business idea born?
Coming from a family of producers and traders in Yagoua, since childhood I've learned about grain and legumes supply chain and its problems. In fact, I knew that the 25,000 rice-growing families in our production area were working in isolation and producing without having control over the market and without the ability to improve yield per hectare.
After a bachelor degree in plant biology, I worked as coordinator for a local ONG, "SANA Logone", where one of my main activities was structuring groups of producers and agro-pastoral sectors. During that experience, I've understood that the real challenge is to offer local rice with a better quality-price ratio compared to the Asian one. Leveraging on this goal, the Logone Riz project was born within the TPA cooperative society. My desire is to be part of the local development of my community, creating wealth and employment from local resources and ensuring Cameroon's food sovereignty.
With TPA Cooperative, I have created a local rice value chain based on a modern mini-rice mill, which is now evolving into a cluster of 300 rice farmer groups. This has led to an increased added value of our paddy rice, and it has also enabled the creation of job places (24,700 direct and indirect jobs in the forecast), and the improvement of the local rice supply (25,000 tons in the forecast) both in the national market and in the sub-region.
TPA's action has enabled the producers to increase their yield from 4 to 6 tons per hectare, thanks to the monitoring of the technical route, as well as to improve the processing efficiency, which has increased from 50% to 60%. We offer ranges of impurity-free and naturally flavored rice: long grain rice, broken rice, brown rice, rice flour, enriched flour… all through different brands, such as IRISA, Nouria, Logone Riz, and Fita.
2. What has been the main challenge you had to overcome in your entrepreneurial experience?
At the beginning, it was necessary to plan and mobilize in advance the right resources to satisfy customers and partners and to assure them the required quantitative and qualitative availability. On the other hand, for our international partners, we had to carry out diagnostics and market analysis; we also needed to structure producers groups, in order to develop ad hoc projects.
3. What have been the most satisfying moments instead?
The most inspiring moments of my entrepreneurial activity are those experienced during the market penetration of our products in the north of the country and in large urban centers: we obtained positive feedbacks from our customers with an adoption rate of almost 80%. The referencing of our products in supermarkets such as Carrefour, which organized advertising campaigns with our products on digital, brochures and large billboards, was part of the comforting moments. I felt satisfied and motivated to continue this entrepreneurial adventure by making long-term projections and working harder to gain market share.
Recognitions and awards received have also been galvanizing for my business, such as the EMPRETEC award from David McCleland of Harvard University, launched in Cameroon by MINPMEESA (Ministry of SMEs) and UNCTAD in 2018; the Africa SME Meeting Innovation Award in 2019; the Youth Excellence Award from MINJEC (Ministry of Youth and Civic Education), and the Pierre Castel award 2021 for the best agribusiness entrepreneur. These awards have allowed me to gain notoriety and visibility for my products.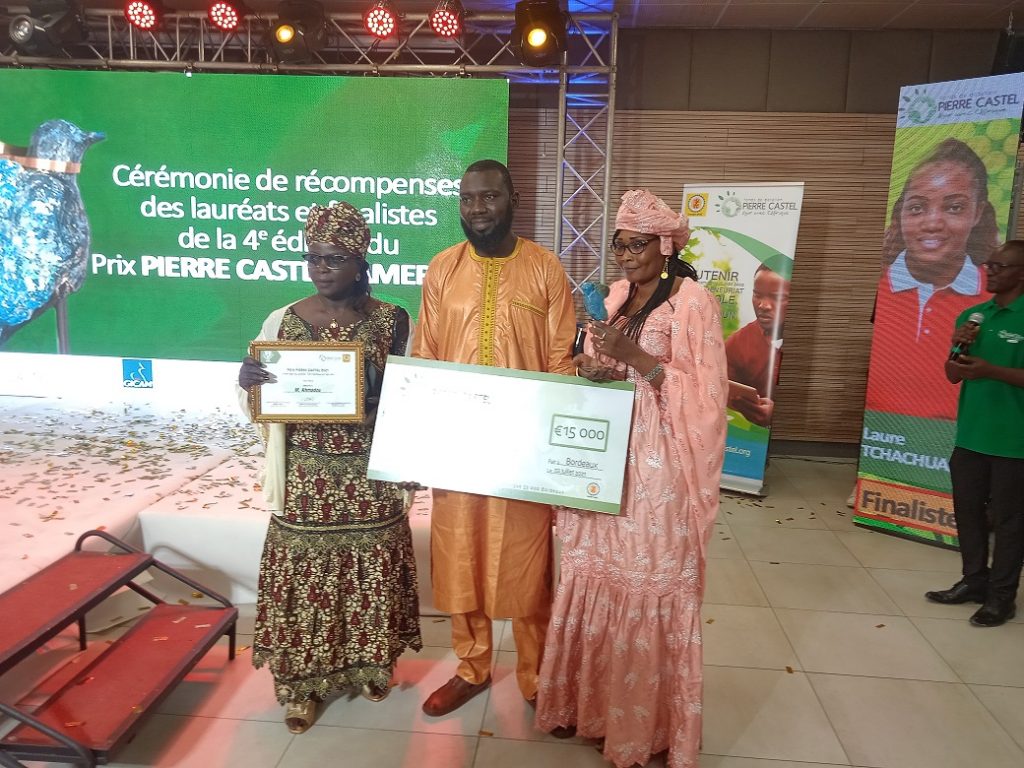 4. How long did it take to grow your business and prepare to access the national market?
Growing and entering the national market took a lot of hard work and commitment. It took 6 years of intense activity before TPA reached an appropriate level of visibility as a national SME offering quality local rice in all supermarkets.
After successfully passing the prototyping tests in 2013, the testing phase of our business model began in 2014 with the first husker that allowed us to introduce our first rice brand "Logone Riz" to the Nordic market. My first business relation was with retailers in the region of the far north of Cameroon, with whom I obtained my first contracts that very year. I later opened the first depot of our rice in the city of Maroua to facilitate supply to retailers and then I used the same strategy in other markets.
In 2018, our first modern mini-rice mill was built and I launched a very successful promotional activity in the capital Yaoundé among public sector executives. Promoting our products in urban centers (Yaoundé and Douala) allowed us to get in touch with supermarkets (such as Carrefour) and large distributors, with whom we obtained contracts in 2019. Of course, I could not do everything on my own, but I benefited from several support activities from international organizations such as Manos Unidas in Madrid in 2015, Diputacion de Ciudad Real in 2020, DACC/European Union in 2022.
By 2021, the turnover has increased to half a million euros, reaching nearly 1 million euros in 2022 with 10 permanent employees and 40 temporary employees. With the industrial supply chain planned for 2024 and contracts with new distributors, we imagine that TPA will reach a turnover of 12 million euros in the 1st year of start-up and then 25 million euros in the 2nd year, with 100 direct jobs and 11,250 indirect jobs. If all goes smoothly in 2025 TPA will grow from an SME to a large national company capable of conquering markets and expanding internationally with 200 direct employees and 22,500 indirect employees. Continuous improvement is at the core of our corporate culture.
5. Can you tell us more about your current projects, such as partnerships or export activities?
Our business partnerships are established mainly with distributors and retailers in open markets with an international reach. We export small volumes to Chad and Nigeria, although demand is very high. We plan to sign more export contracts when the factory expansion is completed, probabily in 2024, in this way we could take advantage of the AfCFTA.
6. What impact has your activity had in Cameroon?
First of all, I have given visibility to thousands of families in the Country. Small artisanal rice mills have learned from our cooperative and are implementing best practices to improve their rice processing, packaging and marketing. In addition, our business strategy works on at least 8 Sustainable Development Goals: 1) eradicating poverty, 2) fighting hunger, 3) access to health, 4) gender equality, 5) access to decent jobs, 6) building resilient infrastructure, promoting inclusive and sustainable industrialization and fostering innovation, 7) responsible consumption and production 8) fighting climate change. It is on these areas that we expect the most significant impact.
7. In your opinion, what are the main qualities an entrepreneur should have?
An entrepreneur must possess the skills defined by David McCleland in his EMPRETEC program. I mention only the first four as examples: 1) hunt for opportunities: entrepreneurs look for opportunities and turn them into profitable businesses; 2) be persevering: where most give up, the entrepreneur does not give up; 3) fulfill commitments: an entrepreneur always keeps his or her promises, regardless of the personal sacrifices involved; 4) seek quality and efficiency: entrepreneurs looks for ways to do things better, faster or at the lowest cost.
8. Could you tell us how the MBA has helped you and your business?
The MBA allowed me to better define my business plan and provide a better solution to clients without wasting my energy on unprofitable activities. I could also improve my company's competitiveness and profitability by applying a better marketing strategy and establishing a quality management system in order to further satisfy customers. I have been provided with tools to better plan and manage my activities, in particular my financial and human resources.
I benefitted from coaching sessions that allowed me to improve both my business plan and my pitch in front of potential investors. The use of EBITDA as an indicator of profitability and control of cost elements, furthermore, allowed me to better set my prices and ensure the efficiency of the company's financial management system. I put also great attention on integrating the SDGs to the business strategy, improving the socio-economic impact of my company.
To be honest, the MBA has been for me a real occasion to share ideas with other successful entrepreneurs and has allowed me to expand my entrepreneurial ecosystem.