Fredrick Ouko is a determined entrepreneur from Kenya. He is the CEO of Riziki Source, a social enterprise that connects people with disabilities to employers through technology. It uses a mobile application that aggregates an online database of job seekers, matched with employers requiring their skills to meet their business goals.
Unfortunately, disabled people have to face several difficulties and challenges when it comes to finding a job, and Fredrick Ouko, having been a disabled job seeker, knows the struggle very well. That is why he decided to set up his own business and make sure that other people do not experience what he has been through.
"I am a disability activist who turned into an entrepreneur, majorly interested in issues related to the employment of persons with disabilities," he stated.
To get hands-on experience in running and managing his business towards profitability while impacting the community, Fredrick decided to enroll in the Global MBA in Impact Entrepreneurship in Nairobi at Tangaza University College. The program seemed to have given him the right boost to take his business to the next level, and now he's having great success."We have been able to connect over 300 people with disabilities to job opportunities in Kenya, to provide soft skills training to over 2000 people with disabilities, and to train over 200 employers in disability inclusion at the workplace."
1. How was your Business Idea born?
This Business Idea resulted from my personal experiences as a disabled job seeker in Kenya and the challenges I saw my peers go through in search of employment opportunities, despite having requisite qualifications. Having to go through inaccessible public transport or being turned off at offices while trying to drop my CV pushed me into finding a solution that could make it possible for employers to access a pool of qualified people with disabilities without them showing up at their offices in the first instance.
2. How can your business improve the life of the beneficiaries of your activities? 
Before my idea came into being, people with disabilities had to struggle with their job search activities considering how public transport is inaccessible in Kenya, coupled with negative attitudes from the public against those with disabilities, who are often thought to be beggars even when they show up at offices looking for jobs.
Employers have been equally complaining of not accessing qualified people with disabilities to fill their vacancies even when they advertise their jobs openly. Riziki Source thus provides an important link for both sides by aggregating a database of job seekers with disabilities from all corners of the country and using the same to negotiate employment opportunities with relevant employers depending on various qualifications found on the database. This database is aggregated through a mobile application or web-based application registration that allows job seekers to register even from remote areas of the country with no internet, so long as they have access to a text message from an ordinary mobile phone.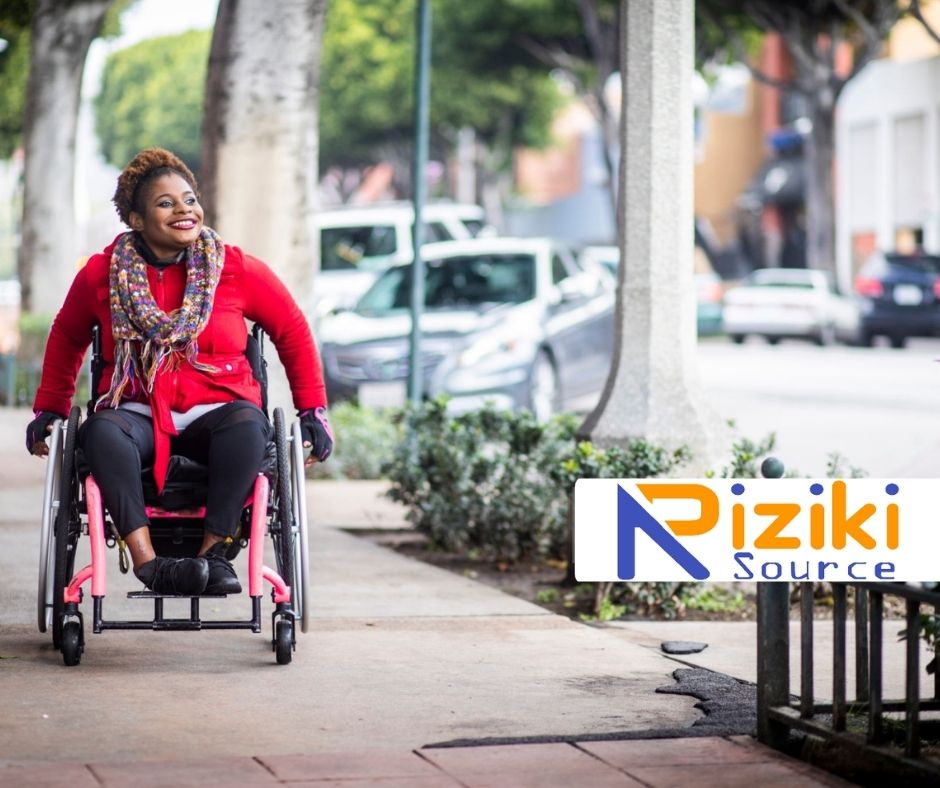 3. What has been the main challenge you had to overcome in your entrepreneurial experience? 
I was getting the courage to start when no one else believed in my idea. Many people did not believe that setting up a business with people with disabilities could bring profits and success. I used my experience and savings to launch the business, knowing that however long it would have taken, it would somehow have been worth it.
4. In your opinion, what are the main qualities an entrepreneur should have?
As an entrepreneur, you should be able to take risks because that is the only way you can know whether something is possible or not. One should also be creative while playing around with different ideas to see which one works to their benefit. Persistence is key; the ability to fail and try out another time until things work out is key to an entrepreneur's success.
5. Is there a person you are inspired by, i.e., an entrepreneur or a particular mentor?
In Kenya, I am inspired by Manu Chandaria, a business magnate running several business initiatives. Despite his successes, he is a humble person and supports numerous social causes through his foundation arm of the business.
6. What would you suggest to a newborn entrepreneur?
A newborn entrepreneur should be aware of their environment and provide solutions to challenges facing people in that environment because that is the only way of getting people willing to pay for the convenience they are providing through the solution to a given prevailing challenge.
Success is a process and can take a long or short time, depending on the prevailing circumstances. Never compare yourself to another entrepreneur and what they have gone through, trust the process, and you will eventually succeed.
 7. Could you tell us a particular satisfactory moment you had in your entrepreneurial activity?
I think when I did my first job match for someone who had taken long before finding a job after they graduated from University. It was a true testament of why Riziki Source's services are needed to help job seekers with disabilities connect to employment opportunities by removing barriers.
8. Could you tell us how the MBA has helped you and your business?
The MBA is a practical program where you learn by doing. It is a flexible program that allows students to focus both on the MBA and their business, keeping it alive. The program helped me devise efficient means of running the business and fundraising for start-up costs, enabling me to run the business and begin to think about expansion within the country.
Learn more on Riziki Source
Facebook Page: @RizikiSource
Twitter Account: @RizikiSource
Instagram Account: @RizikiSource